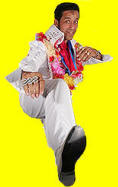 Colette's 40th Birthday Party
Elvis was simply fantastic. He made a great night into a fantastic night,
one which will certainly go down in our family history as being one of the
best. Not only has he got the voice and the moves, he has a great
personality and really threw himself into the whole spirit of the evening - Colette

Someone said 'The worlds a stage, each of us must play a part'.
Dave Quinn plays Elvis Presley with the presence of The KING..

What a great show. Everybody had a great time, many thanks to you. We are very grateful.
Jason & Katherine - Cheltenham, Gloucestershire. UK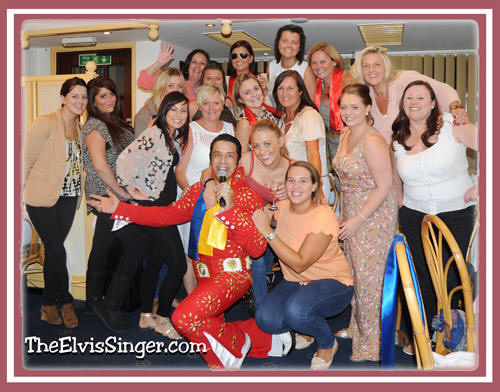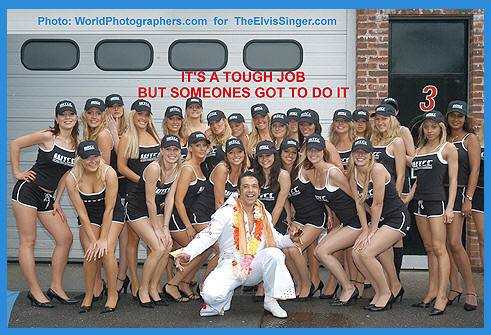 Hey, it's not all fun being The Elvis Singer. It's a tough job, but someone's got to do it. EURO SPORT The TV Company invited me to Brands Hatch Racing Circuit. England

---
---
Click Here For Even More Pictures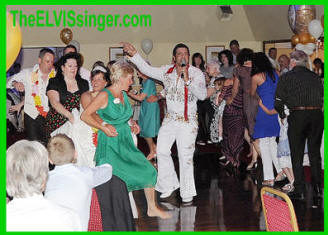 ---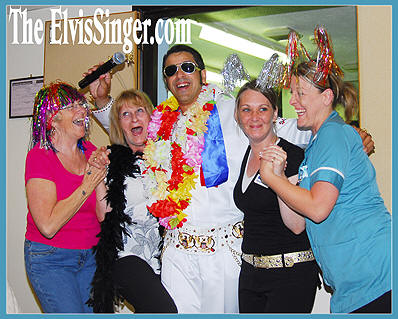 These Girls Had Me Laughing Non Stop at a Nursing Home in Swanley, Kent. England
---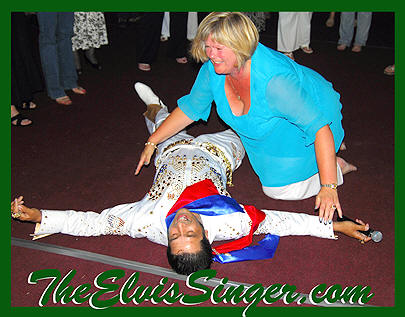 Collapsing at the end of an exhausting show this fan jumps in to give me the kiss of life...
---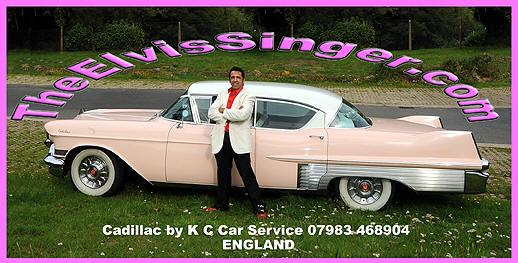 ---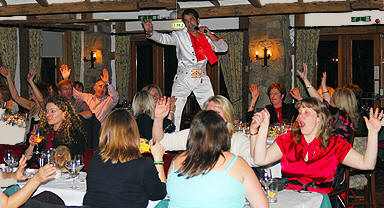 ---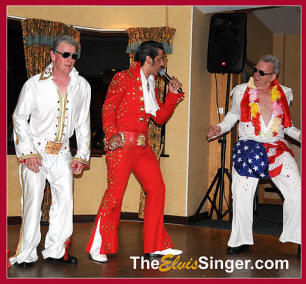 Two Elvis Fans eager to join in the action. Chris and Del. It was Dels Wedding, so I dressed them up for the occasion. Wow, what movers.
---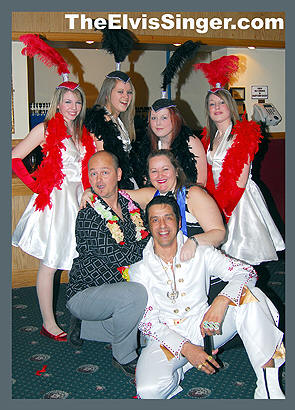 Elvis With Some Of His Dancers. Elvis Dancers Are Available On Request For The Bigger Shows.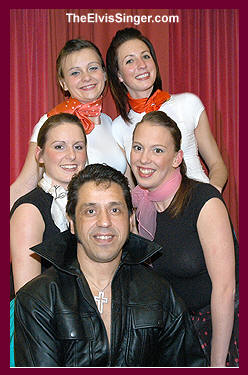 REGULAR ELVIS TRIBUTE SHOWS.
Write To
Elvis, P.O. BOX 64, DARTFORD, KENT, DA1 1ZH. ENGLAND.
TELEPHONE UK Cell 07952 117258
---
Lisa, 'P.T.A.' Parents and Teachers Association, Chair. St. Anselms R.C. School Dartford
What a fantastic evening. Fun was had by all and a great profit raised. We will be booking up for next year.

St Anselm's School Association Valentine Elvis Special. Fully Booked In 3 DAYS. Dartford South East England.
Lisa Baker, P.T.A.Chair. St. Anselms R.C. School Dartford
What a fantastic evening. Fun was had by all and a great profit raised. We will be booking up for next year.
---

I was delighted to be asked to perform at a Top Curry House in Kent on New Years eve
---
BOOK HIM NOW


Dave Quinn's Elvis is the Ideal choice for
Special Parties, Weddings, Fund Raising Events, Meet And Greet, Shows, Corporate Functions, Anniversaries, Birthdays and any Special Event.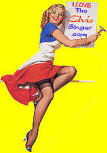 ---
Dave,
We just wanted to drop you a note to thank you for your fantastic performance at our wedding on Saturday night.
Its always a risk booking someone youve never met or seen before but we are so glad we found you.
Everybody has commented how great your show was and we couldnt have wished for a better start to the evenings partying.

Thanks,
Paul & Marie - Sheffield, England

---
Dave 'The Elvis Singer' travels far and wide for Restaurant, Wedding, Charity and Private Bookings. Covering areas such as; Kent, London, Surrey, Sussex, Hants, Berkshire, Bucks, Essex, Herts, Suffolk and More.
If you want a successful ELVIS Event, Function, Show, Cabaret or Ball, simply click your right mouse button and get full details.
---
South London Based Elvis Impersonator Dave Quinn Makes Every Party Rock And Roll

Dave is the spot on choice for any event calling for a dynamic and exciting Elvis Impersonator or Look Alike Performer.
Dave Quinn Elvis Look-A-Like Sounds Like Elvis

Weddings, Corporate or Special Events, Surprise Parties Even Office Functions All Come To Life When The
King of Rock'N'Roll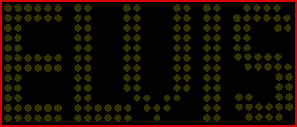 Appears at your Venue
Dave Sounds Like Elvis Using His Own Voice.

Dave's friendly personality and Elvis sound is truly enchanting. Successfully captivating the look and moves of the King, he's a delight to watch or get up and dance to. He delivers quality music with a smile and is able to compliment any occasion. He sings with a choice of 50's Army Uniform, 50's Gold Jacket, 60's Black Leather or 70's Elvis Jumpsuit. The choice is yours.

Your Honoured Guests Will Be Made To Feel Extra Special When The
King Serenades Him Or Her With A Song And Or A Silk Scarf

Dave is a seasoned Elvis impersonator and celebrity look-alike who delights audiences with his powerful magical singing voice, commanding stage presence, and knows how to make your event one that will be fondly remembered and fun.

CALL NOW for ALL BOOKING INFO.
For A Little Less Conversation & A Little More Action, Email For Availability


EMAIL: cvop@hotmail.co.uk Telephone U.K. 07952 117258
All Photos By www.DaveQuinn.com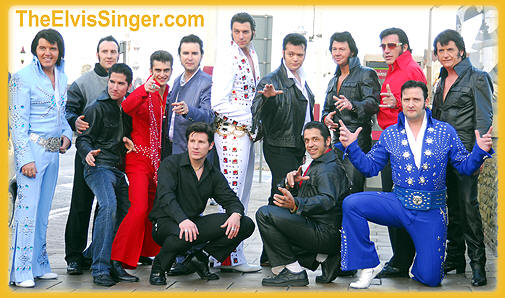 Elvis Entertainers including our own Dave Quinn (centre front) from around the World, including Germany, Australia, Slovenia, Spain, Wales, Scotland and England.