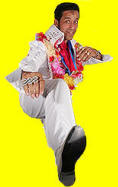 Jeff's Retirement Party
LUXEMBOURG
Dave,
Just a little note to thank you so much for making Jeff's surprise retirement party an evening never to be forgotten! Everyone had a ball and there is no doubt that it would not have been the same without the wonderful performance from Elvis.
Audrey from Luxembourg

Lisa Baker, P.T.A.Chair. St. Anselm's R.C. School Dartford Kent
What a fantastic evening. Fun was had by all and a great profit raised. We will be booking up for next year.

Someone said 'The worlds a stage, each of us must play a part'.
Dave Quinn plays Elvis Presley with the presence of The KING..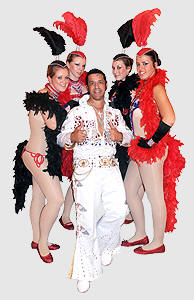 ---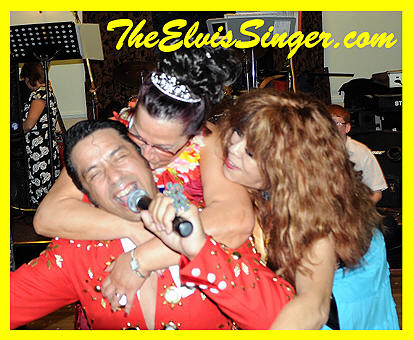 We were very impressed by your performance as Elvis - you were electrifying and amazing. Sandra, as a dedicated Elvis fan since she was 5 years of age, was enthralled. We would heartily recommend you at any time for functions on other occasions. Indeed, you possess the gift of great talent in the musical field. George and Sandra
---
Charity Ball at Cheltenham Race Course
It was a fantastic night. Thank you again for a superb show. You were a true star and proof that Elvis isn't dead! Of all our 300 guests we had nothing but compliments for you, with everyone truly enjoying the songs and entertainment. Thanks again. Long Live the King! Jason and Alan
---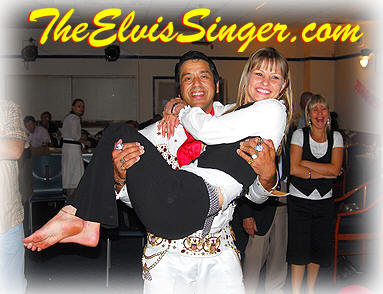 One Happy Elvis, One Picked Up and Very Sexy Fan. I enjoyed this pose so much I made them take it again, and again....
---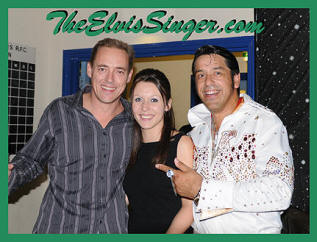 Dear David,

Just a quick note to say thank you so much for Sat evening. Darren had a fantastic time and you were a lovely surprise for him

All the best
Alex and Darren
---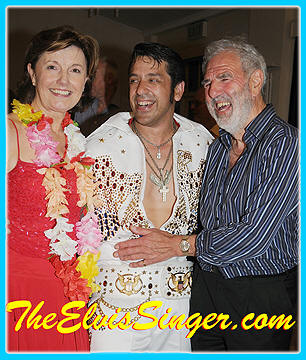 David,
Thank you so much for an EXCELLENT evening! Everyone really enjoyed your show and it really made the whole evening very special. Dad especially was thrilled, which was the most important thing.
I would recommend you to anyone.......

All the best, and we'll give you a shout for his 80th!!!!
Regards
Clare

---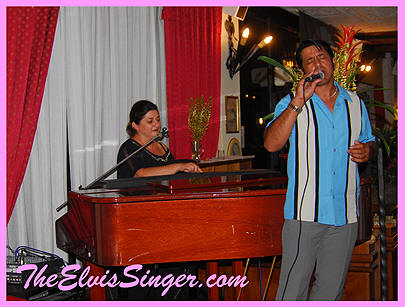 When in ROME - Do as the Romans do. So I sang a Tango 'No More' to an exclusive audience from Australia, Croatia, Italy and Canada. Below you can see their musical talents in action.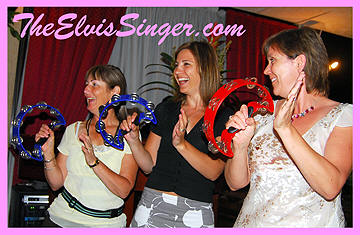 ITALY, ROME
---
Even the Management joined in with Entertaining the Party at Swanley's Best Chinese Restaurant.

What a thrill it was to be asked to perform for these ravishing young ladies. I have known these two for many years. Jackie (on the left) encouraged me to start out on this amazing trip as an Elvis Tribute Artist. Carol (on the right) and Jackie are long time Elvis Fans and have been members of the Elvis Fan Club longer than I can remember. Wow, I was nervous. Here's what the birthday girl Carol, had to say:

My Son Brian organised a Very Special Day for my Sixtieth Birthday. It was fantastic and the icing on the cake was Dave the Elvis Singer performing to all my family and friends at a restaurant in Swanley Kent. Brilliant. Thanks Dave.

The Elvis Magic Hypnotising this young crowd.

The Beauty in this picture is Stephany. It was her second booking with me and she didn't look a day older than the last time I had the privilege of singing to her. You can read Stephany's comments all around this site.

ICI Booked me for some corporate FUN

One of the great things about performing Elvis is every now and then you meet up with some great friends from the past. Sandra (far left) was celebrating her fiftieth birthday at Chislehurst in Kent. Mole (far right) helped me out with a brilliant roofing job a trillion years ago. Louise (the princess in the middle) booked me and looked after me all night.

__________________________________

Hi David.
Hope you're okay after last night, and wow, what a night!
Me and the family would just like to say a very big thank you as you really did make the night.
Thank you so much, you were great.
Louise - The Welch Family

CROYDON, LONDON. Making a point or two.
Andrew and Alison Married in style at Covent Gardens London England

Sometimes people worry if 'Elvis' will make the party rock or will it be a subdued event. This picture should give you an indication.

Dave,
Thanks for Saturday. You were brilliant. Everyone (even the old relatives) thought you were very entertaining.
Cheers,
Andrew.

One Happy Bride.


Entertaining the Forces at a Wedding with Family from Spain.

What a great show. Everybody had a great time, many thanks to you. We are very grateful.

Jason & Katherine - Cheltenham, Gloucestershire. UK


He is one of the best boarding schools in the country. Having an Elvis Style Farewell Party for one of their favourite staff.

Dave,
We just wanted to drop you a note to thank you for your fantastic performance at our wedding on Saturday night.
Its always a risk booking someone you have never met or seen before but we are so glad we found you.
Everybody has commented how great your show was and we couldnt have wished for a better start to the evenings partying.

Thanks,
Paul & Marie - Sheffield, England

Wild Fortieth Birthday Party at a typical old English London Pub.



One Hell of a Happy Family. All ages joining in with Elvis. Martin's Birthday Party at his families new home, also included his family from Germany. Martin even sung 'Wooden Heart' in German.

Thankyouverymuch must also go to Natalie B, Top DJ from HEART RADIO 106.2, for recommending me. She's in the Jailhouse Rock outfit, at the front.

INDIA

Here I am about to perform at a Top Night Club Booked for a 60th Birthday Party by Sonia. They gave me this grand house all to myself apart from the 3 Gardeners, 2 Gate keepers, Head House Keeper - Cook and Driver (ready all hours to take me anywhere). I was totally spoilt with sun bed and bar on tap. Sonia's comments after the show were, if I remember correctly: "I was meant to find you. It was meant to be. I'm so pleased I booked you. I will be booking you for my business opening in Goa.

A Picture Speaks a Thousand Words.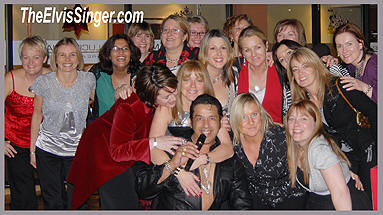 They Wanted Leather. I got Hot. I'll Never Complain about this job again. Beautiful Women Only, at Elvis PTA Night. Here's what they said:
Hi Dave
Just a quick note to say thank you very much for Friday night. Unfortunately I had one two many to drink and did not get a chance to chat to you. Everybody is still talking about you.
Thanks very much for a great night.
---
Dave Elvis Quinn is the best performer you could possibly hope for. A great singer, he really got the party going with songs that appealed to all ages. We had expected him just to walk round the tables, but within minutes everyone was dancing and Dave had to stand on chairs to be seen! He was also extremely friendly, and made many friends with his easy-going manner.

All the best

Jeremy Hunt M.P.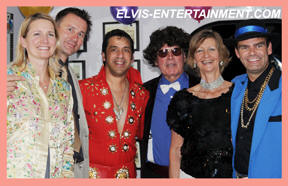 ---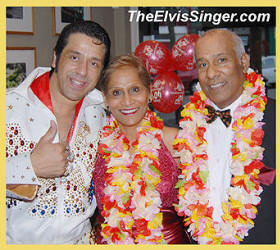 Congratulations and Celebrations on a Fabulous 40th Wedding Anniversary. I was honoured to perform for this lovely couple originally from Mauritius And Goa. Where I soon will be performing.
Their lovely daughter booked me and here's what she had to say:
Hi Dave,
What can I say.... everyone's talking about the Elvis show to this day. From the start of the performance you made everyone feel comfortable and you really gauged the crowd and gave them what they wanted. It was well rehearsed and very polished performance, you even got my dad to sing along AND DANCE to 'Blue Suede Shoes'!! Everyone loved you and said how you went up to each person and sang to them and encouraged those to dance or sing along that felt a bit shy! I think at the end everyone was up and jiving along to Elvis tunes. I'll definitely spread the word that Elvis is alive and kicking and should get Dave Quinn to every party to get things going.
Thank for making my party a success!
Janice Vee- Freelance Presenter BBC London 94.9FM
---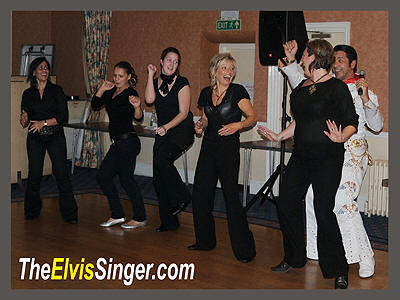 Having Fun at Dartford Kent Masonic Dinner and Dance
---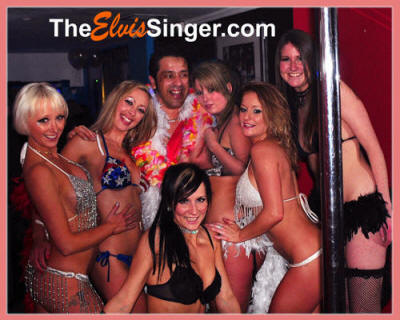 I'm not sure whether these beautiful girls dressed up or dressed down for me! Either way, I was Paralyzed in Hastings, Kent.
---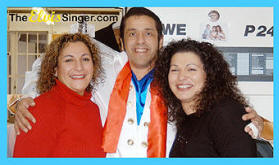 These two lovely ladies keep my very expensive Vegas Jumpsuits clean and sparkling. They're the best in the business. Here we are together for a promotion shot for Valley Dry Cleaners of Gravesend, Kent, England, to be used in a local paper.
---

I am always pleased and honoured to show off the very kind recommendations that people, friends and Elvis Fans have found the time to send me.
If you are not sure whether to book The Elvis Singer and Entertainer for your party, show or surprise bash, this page may help you make up your mind.
---
---
SEE MORE PHOTOS BY CLICKING HERE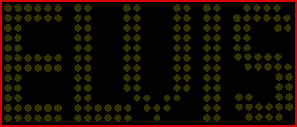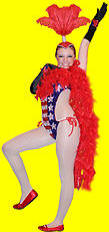 Colette's 40th Birthday Party
Elvis was simply fantastic. He made a great night into a fantastic night,
one which will certainly go down in our family history as being one of the
best. Not only has he got the voice and the moves, he has a great
personality and really threw himself into the whole spirit of the evening - Colette

Dave Quinn's Elvis is the Ideal choice for
Special Parties, Weddings, Fund Raising Events, Meet And Greet, Shows, Corporate Functions, Anniversaries, Birthdays and any Special Event.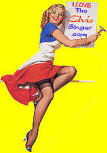 Happy Customer Stephany from Woking, Surrey.
"Oh My God, It's Uncanny."