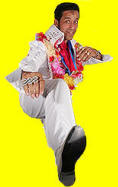 Colette's 40th Birthday Party
Elvis was simply fantastic. He made a great night into a fantastic night,
one which will certainly go down in our family history as being one of the
best. Not only has he got the voice and the moves, he has a great
personality and really threw himself into the whole spirit of the evening - Colette

Someone said 'The worlds a stage, each of us must play a part'.
Dave Quinn plays Elvis Presley with the presence of The KING..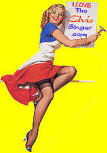 Your performance was FABULOUS.
You really got the party swinging and made the night such fun.
Everyone is still talking about how wonderful you were. We can't thank you enough for making our wedding party so special.
Good luck with everything and a massive thank you again. I can't believe our luck getting someone like you. Wow.

Best wishes and a million thanks,
Maeve and Christoph x x x x x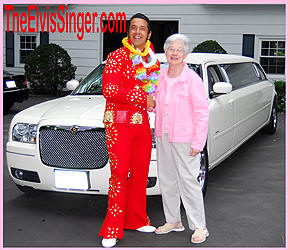 You Can't Go Anywhere In This Business Unless You Have A Brilliant Overseas Manager. Veronica Hudson Of The USA Is The Best You Can Get. Organizing, When And Where I Eat, And Who I Meet And Greet. She Even Books The Best Limo Cars She Can Find, So Elvis And His Entourage Travel In Style.
---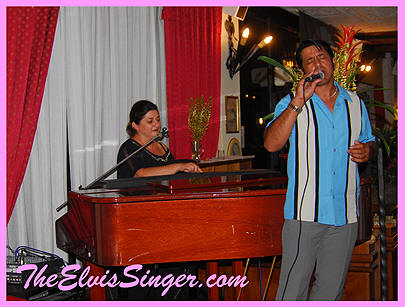 When in ROME - Do as the Romans do. So I sang a Tango 'No More' to an exclusive audience from Australia, Croatia, Italy and Canada. Below you can see their musical talents in action.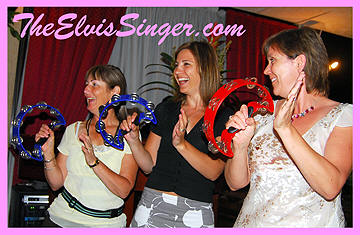 ITALY, ROME.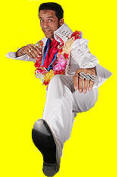 Dave Quinn's Elvis is the Ideal choice for
Special Parties, Weddings, Fund Raising Events, Meet And Greet, Shows, Corporate Functions, Anniversaries, Birthdays and any Special Event.

Dave (our Elvis) produced an amazing charity show that people are still talking about now, some 6 months later. Even though on the night of the show all 3 of the supporting acts did not turn up (which in anybody's books spells disaster) Dave came up trumps. He did two un-rehearsed sets to warm things up singing songs from other popular genres. With the Ultimate Elvis show bringing the house down with his Climatic Elvis Performance and Fabulous Dancers. Not one person complained or even seemed to notice that the other performers were nowhere to be seen. Simply Brilliant. Probably the Worlds Greatest Elvis.
Carol Kent

Iíve never seen anything like it and would recommend it to anyone who wants to get their crowd moving and provide their guests with a truly memorable evening.
I will recommend you to everyone!
Robin

| | | |
| --- | --- | --- |
| BOSTON, NEW YORK, AMERICA. Picture Courtesy of Schwabel Photography (Great Photographers) | LUXEMBORG | TURKEY |
| ASHFORD CASTLE, COUNTY MAYO, KNOCK, IRELAND | COLLINGWOOD, ONTARIO, CANADA | First Ever Public Performance as G.I. Elvis Presley in the Orchards Shopping Mall, Kent. England. U.K. |
GAYETY THEATRE, ONTARIO, CANADA

CHEETOWAGA, NEW YORK
U.S.A.

BLACKPOOL GREAT BRITAIN
Dave 'The Elvis Singer' travels WORLD WIDE putting on shows to please Elvis Presley Fans everywhere. Covering areas such as; Kent, London, Surrey, Sussex, Hants, Berkshire, Bucks, Essex, Herts, Suffolk and more in the U.K. and just about anywhere on the International Circuit.
If you want a successful Event, Function, Show, Cabaret or Ball, simply click your right mouse button and get full details or email below.
---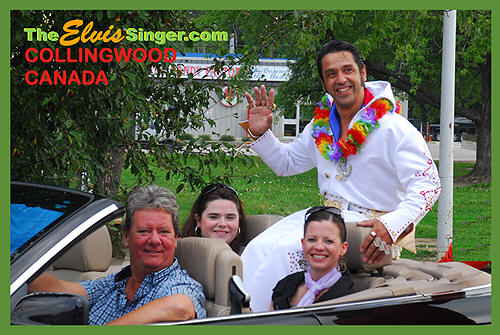 Here I am as the honoured guest in the Mayor's Car in the Street Parade in Collingwood, Canada. Hey, what a fab job, I've even got beautiful girls at my feet.
---
---

When performing my Elvis Presley Tribute Act I often have a Sound engineer / Photographer. So if you see them in action you are welcome to get in touch with me for memorable photos of your special Event.

For Elvis
Weddings, Corporate or Special Events, Surprise Parties Even Office Functions. They All Come To Life When The
King of Rock'N'Roll

Appears at your Venue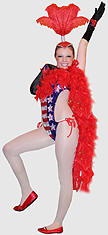 When I'm asked to perform at a function I consider it a great honour. I'm aware there are thousands of other Elvis Presley Impersonators for you to choose from, so I hold nothing back and give it my all. So if your looking for a subdued melt into the background performer - don't choose me. But if your looking for an action packed, hip swinging Elvis that's gonna set the place on fire, then you've found your man. I look forward to meeting you.





EMAIL: cvop@hotmail.co.uk Telephone U.K. 07952 117258