Choosing The Right Elvis Impersonator Can Make or Break Your Event. Don't take a risk.
Book the Truly World Wide Performing Elvis Presley Tribute Singer 'Dave Quinn' For Your Special Function. Dave Quinn the Elvis Singer has been pleasing Elvis Fan Audiences Internationally, including
AMERICA, IRELAND, LUXEMBOURG, CANADA, TURKEY AND GREAT BRITAIN.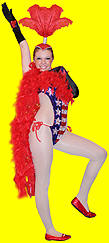 Someone said 'The worlds a stage, each of us must play a part'.
Dave Quinn plays Elvis Presley with the presence of The KING..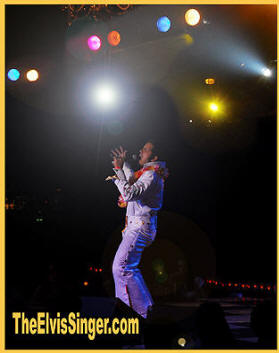 Dave Quinn's Elvis Tribute as seen at Blackpool - Horse Shoe Theatre
---
BBC Radio Said when they heard Dave Quinn The Elvis Singer " God. It Could Be Elvis."
---
EURO SPORT TV Said "We Want This Man At The World Touring Car Championships."
---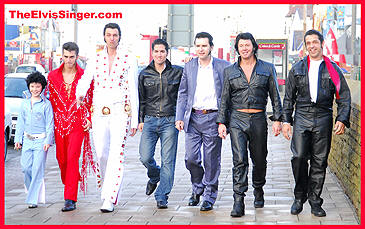 Picture taken by German Press for Magazines etc. This picture shows me with top Elvi, from Germany, Slovenia and Australia. Plus a young fan.
---
SURPRISE PARTY BOOKER, STEPHANY Said " Oh My God. It's Uncanny."
---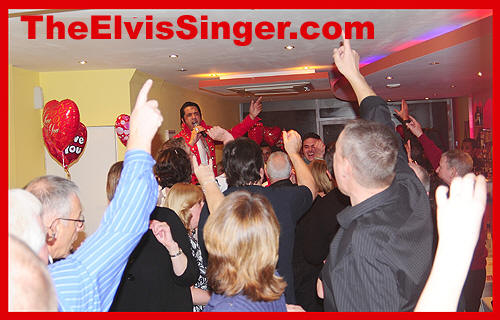 Recently back from a successful booking in New York, USA Dave is now available to take
YOUR BOOKINGS
SOUTH LONDON UK Based. Available to sing at your Wedding, Corporate Function or Special Event.
Equally at home singing Early Years Sun Recordings to Elvis Ballads and All Time Elvis Classics. The real Elvis spirit will live forever in your heart and mind when you hear the exciting voice of Dave Quinn, singing his unforgettable tribute to the King of Rock'N'Roll Elvis Presley.
BOOK HIM NOW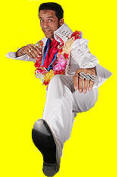 Dave Quinn's Elvis is the Ideal choice for
Special Parties, Weddings, Fund Raising Events, Meet And Greet, Shows, Corporate Functions, Anniversaries, Birthdays and any Special Event.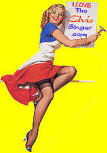 ---
Hi Guys, I just wanted to say a quick 'Thankyouvrymch' to all the wonderful people I have had the honour and pleasure to meet on my travels during my shows around the world. Your generosity and kindness is very much appreciated especially when I often find myself so far from home. It's a funny thing, but I think when people hear a singing voice that reminds them of the King, they treat you like one. To the great friends I have now made and to the fine people that I have yet to meet, Good luck and God bless, young old, meek or bold.
David Quinn The Elvis Singer

Don't Miss A Thing From The King.
South London Based Elvis Impersonator Dave Quinn Makes Every Party Rock And Roll

Dave is the spot on choice for any event calling for a dynamic and exciting Elvis Impersonator or Look Alike Performer.
Dave Quinn Elvis Look-A-Like Sounds Like Elvis

Weddings, Corporate or Special Events, Surprise Parties Even Office Functions All Come To Life When The
King of Rock'N'Roll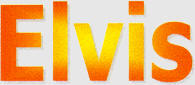 Appears at your Venue
Dave Sounds Like Elvis Using His Own Voice.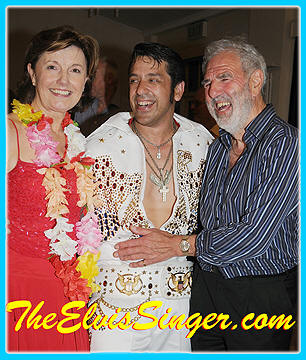 Dave's friendly personality and Elvis sound is truly enchanting. Successfully captivating the look and moves of the King, he's a delight to watch or get up and dance to. He delivers quality music with a smile and is able to compliment any occasion. He sings with a choice of 50's Army Uniform, 50's Gold Jacket, 60's Black Leather or 70's Elvis Jumpsuit. The choice is yours.

Your Honoured Guests Will Be Made To Feel Extra Special When The
King Serenades Him Or Her With A Song And Or A Silk Scarf

Dave is a seasoned Elvis impersonator and celebrity look-alike who delights audiences with his powerful magical singing voice, commanding stage presence, and knows how to make your event one that will be fondly remembered and fun.

CALL NOW for ALL BOOKING INFO.
For A Little Less Conversation & A Little More Action, Email For Availability



EMAIL: cvop@hotmail.co.uk Telephone U.K. 07952 117258

Photographs by www.DaveQuinn.com