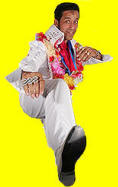 Hi Dave,
What can I say.... everyone's talking about the Elvis show to this day. From the start of the performance you made everyone feel comfortable and you really gauged the crowd and gave them what they wanted. It was well rehearsed and very polished performance, you even got my dad to sing along AND DANCE to 'Blue Suede Shoes'!! Everyone loved you and said how you went up to each person and sang to them and encouraged those to dance or sing along that felt a bit shy! I think at the end everyone was up and jiving along to Elvis tunes. I'll definitely spread the word that Elvis is alive and kicking and should get Dave Quinn to every party to get things going.
Thank for making my party a success!
Janice Vee- Freelance Presenter BBC London 94.9FM

Jeff's Retirement Party
LUXEMBOURG
Dave,
Just a little note to thank you so much for making Jeff's surprise retirement party an evening never to be forgotten! Everyone had a ball and there is no doubt that it would not have been the same without the wonderful performance from Elvis.
Audrey from Luxembourg

Happy Customer Stephany from Woking, Surrey.
"Oh My God, It's Uncanny."
Other Links:
www.Elvis-Tribute-Impersonator.com
When booking an Elvis Performer, Impersonator or Tribute Artist, it is a good idea to ask a few basic questions. Sometimes because I am booked up it means you have to search hard and leave a lot to pot luck, to whether you find a good performer or not. Here I have laid out a few basic questions I would advise you to ask your ETA before making your final decision.
1. Do they sing or mime?
Sounds silly but believe me some do mime.
I am pleased to say I sing using my own voice in the Elvis style and add the moves.
2. Is it possible to hear them first?
They should have samples readily available via web site or CD.
You can hear me at this website.
3. Do they have any film footage of them?
It's useful if you can see before booking even if only for character or moves. Look for them being relaxed and having fun.
BBC Television Company have kindly allowed me to show you recent footage from one of their most popular programmes that I featured in at this website. More are being added soon.
4. Do they have authentic looking clothes?
The most popular are 70's Jumpsuits, 68 Comeback Leathers, 50's G.I. Uniform and the Gold Lame Outfit. Be sure to tell them which you require before the event.
I have 7 outfits including all of the above and more.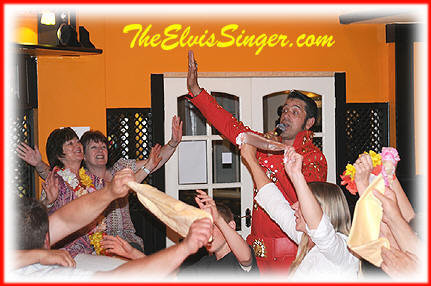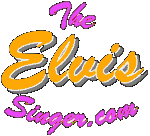 5. Do they sing entertaining songs?
Always check this as there are a lot of Gospel Elvi Singers on the circuit and although excellent singers, they may not be what you want for your event.
My list was made from requests that I have gathered from my shows around the World.
6. Do they have there own equipment?
Is it of sufficient quality and power. Check if they use a Radio Mike. This will mean they are more mobile. Also check that the equipment is not too cumbersome and take up more space than is available.
I use top quality Yamaha professional amplification. Shure radio microphones (which allows for more fun, as I can mingle with the audience and JBL speakers for superb sound reproduction.
7. Are they happy to work with your existing DJ (if required)?
This is often an excellent alternative when there is limited space or, you would rather not have a performer removing all their equipment halfway through your event. If it's a surprise party working with a DJ is often a great way to amaze your special guest when Elvis bursts in larger than life to what they thought was a normal disco.
I often work with various DJs and would be happy to supply you with some names and numbers should you still require a DJ.
8. How long will they perform for?
Usual requirements are a 1 hour show or 2 x 45min shows.
I perform all of the above and any other bespoke variations that you may require.
9. If there is no DJ are they happy to put complimenting music on either before, in between or after the performance.
No problem, just notify me before the event.
10. Do they charge more for distance?
Always check that there are no hidden fees not discussed prior to booking such as travel expenses etc.
All my fees given are total and no other payments are expected unless abroad where other expenses would be discussed prior to booking.
11. Are they Agent controlled?
Often you will find one Elvis charging more than another which sometimes seems unexplainable. Be careful here as this could be because they have to pay an Agent. Beware sometimes when you pay a large fee you are simply having a percentage paid to an Agent.
I have departed from my two Agents so as to give you, the customer, the best possible price. I won't argue if you want to pay me more!
12. What is their overall experience in the Business?
Check to see how long they have been performing and whether they have performed to all sorts of audiences.
I have been performing for 5 years to audiences as small as 2 (an engagement party) to 5,000 at an International Elvis Convention in Canada. I have performed in Great Britain, Luxembourg, Ireland, USA and Turkey among other places. Plus I have been on TV a number of times and been seen by millions on BBC TV.
13. Do they have any recommendations from people that have seen the show?
It should be easy to access recommendations on your performing artist.
See my web site for the answer here.
14. Do they require a deposit to secure your booking, and do they confirm that you are actually booked?
I do require a deposit and always confirm bookings either by email, snail mail or phone.
15. Book early to avoid disappointment.
You can sometimes find although you have booked provisionally by the time you get organised enough to send your deposit, the booking date has been taken.
If you are worried about this happening, see if they will secure your booking with Credit Card straight away. I am happy to accept credit or debit cards. As I am a registered secured Credit Card authorised trader. It's often better to be safe than sorry and secure your booking fast.
16. Always check with them a few days before your event that everything is on schedule.
Any respectable Elvi would be pleased to make you at ease with the knowledge that all is fine.
You're welcome to call me anytime. Click the right button on your mouse or see my home page for my direct phone number.
---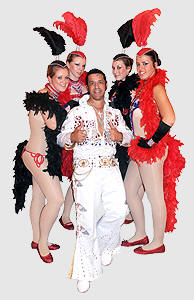 OK That's about it, other than to ask your Elvis if there are any other requirements. My act is called a self contained act. This means I am able to supply everything that is needed to make the evening perfect right down to backing tracks. Some performers require a band. Of course this can be popular but it will require a much higher fee and you are reliant on more performers turning up at your event and not letting you down. I have a 100% attendance record. If you need any other advice or help I'll gladly advise you free even if you don't book me. Good Luck. Dave Elvis Quinn.
---
Dave

I just wanted to say a big thank you for your performance at my wedding on Friday.
The surprise to Paul went well and he was over the moon.
Everyone I have spoken to has said how entertaining you was and you really put the finishing touch to a special day.

Thanks again

Hannah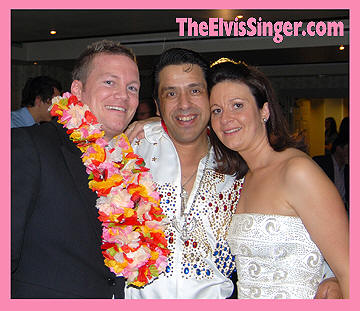 Hannah and Paul's Wedding Christmas 2007
email cvop@hotmail.co.uk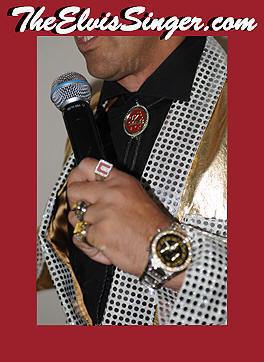 ---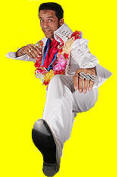 Elvis was stunning. I stood next to the guy before he changed and I wouldn't have known.
Other Links:
www.Elvis-Tribute-Impersonator.com

"What a night! I can't remember when I last enjoyed myself as much at a party.
Thank you for the lovely evening and I hope everybody enjoyed it as much as I did. I know Beryl had a whale of a time too."
We are so glad we took a leap of faith and booked you for our do and thanks again for a great night.
Regards
Sonya & Ian
Essex
Dave Quinn's Elvis is the Ideal choice for
Special Parties, Weddings, Fund Raising Events, Meet And Greet, Shows, Corporate Functions, Anniversaries, Birthdays and any Special Event. Or if you prefer ask about the Special Golden Oldies Show. Tailored to suit, it can have the first half of your show with performances of fifties and sixties foot taping favourites and finish with the second half as Elvis the King.
---
Dave,

We just wanted to drop you a note to thank you for your fantastic performance at our wedding on Saturday night.
It's always a risk booking someone you've never met or seen before but we are so glad we found you.
Everybody has commented how great your show was and we couldn't have wished for a better start to the evening's partying.

Thanks,
Paul & Marie.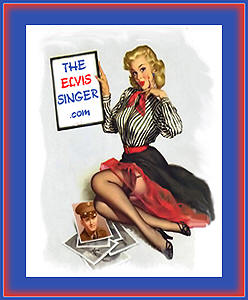 Special Parties, Weddings, Fund Raising Events, Meet And Greet, Shows, Corporate Functions, Anniversaries, Birthdays and any Special Event.
I have or am happy to perform my Elvis Shows at Bedfordshire, Bedford, Luton, Dunstable, Leighton Buzzard, Biggleswade, Sandy,
Berkshire, Reading, Bracknell, Maidenhead, Newbury, Windsor, Wokingham, Abingdon,
Buckinghamshire, Aylesbury, Milton Keynes, Slough, Buckingham, High Wycombe,
Cambridgeshire, Cambridge, Wisbech, Ely, March, Whittlesey, Chatteris, Linton,
Cheshire, Chester, Stockport, Ellesmere Port, Birkenhead, Wallasey, Runcorn, Macclesfield, Crewe,
Cornwall, Bodmin, Truro, Camborne, Redruth, St. Austell, Falmouth, Penzance, Newquay,
Cumberland, Carlisle, Whitehaven, Workington, Penrith, Keswick, Brampton,
Derbyshire, Derby, Chesterfield, Ilkeston, Swadlincote, Buxton, Matlock, Ashbourne,
Devon, Exeter, Plymouth, Torquay, Paignton, Barnstaple, Tiverton, Newton Abbot, Tavistock,
Dorset, Dorchester, Poole, Weymouth, Sherborne, Wimborne Minster, Shaftesbury,
Durham, Durham, Sunderland, Stockton-on-Tees, Darlington, Hartlepool, Gateshead, Washington,
Essex, Chelmsford, Basildon, Romford, Southend, Colchester, Harlow, Brentwood, West Ham,
Gloucestershire, Gloucester, Bristol, Cheltenham, Stroud, Cirencester, Tewkesbury,
Hampshire, Winchester, Southampton, Portsmouth, Bournemouth, Basingstoke, Newport,
Herefordshire, Hereford, Ross-on-Wye, Leominster, Ledbury, Bromyard, Kington,
Hertfordshire, Hertford, Watford, St. Albans, Hemel Hempstead, Stevenage, Hatfield,
Huntingdonshire, Huntingdon, St. Ives, St. Neots, Ramsey, Yaxley,
Kent, Maidstone, Canterbury, Bromley, Rochester, Margate, Folkestone, Dover, Greenwich,
Lancashire, Lancaster, Liverpool, Manchester, Preston, Bolton, Warrington, Barrow-in-Furness,
Leicestershire, Leicester, Loughborough, Hinckley, Melton Mowbray, Coalville, Lutterworth,
Lincolnshire, Lincoln, Grimsby, Scunthorpe, Boston, Grantham, Stamford, Skegness, Louth,
Middlesex, City of London, Harrow, Enfield, Staines, Ealing, Potters Bar, Westminster,
Norfolk, Norwich, Great Yarmouth, King's Lynn, Dereham, Cromer, Hunstanton,
Northamptonshire, Northampton, Peterborough, Corby, Kettering, Wellingborough,
Northumberland, Alnwick, Newcastle-upon-Tyne, Morpeth, Hexham, Berwick-upon-Tweed,
Nottinghamshire, Nottingham, Mansfield, Worksop, Newark, Retford, Southwell,
Oxfordshire, Oxford, Banbury, Witney, Bicester, Henley-on-Thames, Carterton, Thame,
Rutland, Oakham, Uppingham. Cottesmore,
Shropshire, Shrewsbury, Telford, Oswestry, Bridgnorth, Whitchurch, Market Drayton, Ludlow,
Somerset, Taunton, Bath, Weston-super-Mare, Yeovil, Bridgwater, Wells, Glastonbury,
Staffordshire, Stafford, Stoke-on-Trent, Wolverhampton, Walsall, Cannock, Lichfield,
Suffolk, Ipswich, Bury St. Edmunds, Lowestoft, Felixstowe, Sudbury, Haverhill, Bungay,
Surrey, Guildford, Croydon, Woking, Sutton, Kingston-on-Thames, Wandsworth, Wimbledon, Brixton,
Sussex, Chichester, Brighton, Worthing, Crawley, Hastings, Eastbourne, Bognor Regis, Horsham,
Warwickshire, Warwick, Birmingham, Coventry, Nuneaton, Rugby, Solihull, Stratford-upon-Avon,
Westmorland, Appleby, Kendal, Windermere, Ambleside, Kirkby Lonsdale,
Wiltshire, Trowbridge, Salisbury, Swindon, Chippenham, Devizes, Marlborough, Warminster,
Worcestershire, Worcester, Dudley, Kidderminster, Stourbridge, Halesowen, Malvern, Evesham,
Yorkshire, North Riding,Northallerton, Middlesbrough, Scarborough, Whitby,
East Riding, Beverley, Hull, Bridlington, Driffield, Hornsea, Filey,
West Riding, Wakefield, Leeds, Sheffield, Bradford, Halifax, Harrogate and
York (within the Walls).